Telcobridges Media, Signaling and Transcoding Gateways
---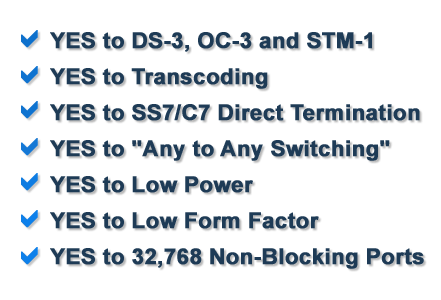 ---
Carriers and Service Providers require high-performance Media and VoIP Gateways. They know many choices are available in today's market, but the range of features and cost leave them searching for gateways that say "Yes" to:
Support for T1, E1, J1, DS-3, STM-1 or OC-3 TDM Interfaces
Support for multiple 'any-to-any' switching across multiple network interfaces and protocols from different carriers as well as transcoding support for all major wireline, wireless and internet codecs
Support for a low form factor - 1 or 2U High
Support for high density and scalability with the TMG7800 cabinet based system
Direct termination of SS7/C7 Signaling
Independent signaling per channel
Low power consumption - Less than 140 watts
Full redundancy options - Power and Traffic
Scalability - Multi DS-3, STM-1 or OC-3 support
Call routing features - ANI and DNIS routing, Least Cost Routing, Nature of Address, Pre and Post routing digit manipulation and TDM to TDM, IP to TDM and IP to IP
IVR and FAX - Built-in support for Voice Response and T.38
Carrier-Grade - Full 99.999% reliability and NEBS Level 3 compliance
Up to 50 Calls Per Second - Incredible BHCA capability
Echo Cancellation - 128ms on all channels
API Interface - Allow full integration with custom solutions and advanced applications
Lower Equipment Cost - An alternative to Cisco™ and AudioCodes™ without sacrificing quality, features or reliability
Alternative Upgrade - The most popular upgrade for Quintum DX and CMS VoIP Gateways
Lower Power Cost - Up to 80% less power consumption compared to older technology
---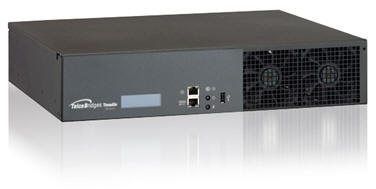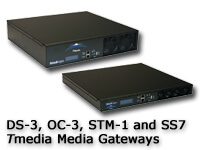 Tmedia™ and Tdev™ Gateways say "Yes" to all of the above!
The Tmedia™ line of products is carrier-grade media gateways that meet the needs of service providers, solution developers, and system integrators as they cost-effectively expand their network footprint and deploy enhanced value-added services. By giving users the ability to easily add additional hardware capacity via field-upgradable modular hardware components, and to perform software license upgrades without rebooting the system, the 1U form factor TMG800 or 3200 media gateway provides the flexibility that leading-edge service providers require to deliver on their aggressive growth plans. A single TMG3200 media gateway unit provides a capacity of 2,048 voice ports and the flexibility to mix and match TDM and IP across T1/E1/J1, DS-3 and STM-1 interfaces. The TMG800 is a low-density version that supports up to 240 voice ports with T1, E1 or J1. The Tdev series provides all the same functionality as the Tmedia series with the addition of running application services on external servers for even greater flexibility, redundancy, and scalability.
Whether sitting at the network core or the edge, the TMG800 or 3200 provides essential media gateway functionality allowing it to bridge TDM and IP networks, intermediate between various wireless, PSTN and IP voice protocols, and deliver hosted IP-PBX, Fax over IP, SIP trunking and other advanced services. Leveraging the TelcoBridges Toolpack™ media gateway software, on-board application server, and built-in storage (compact flash drive or SATA disk), the TMG800 or 3200 media gateway provides a low footprint approach to developing and provisioning unique subscriber-specific services and value-added applications such as Unified Communications, ring-back tones, and prepaid/postpaid services. With separate chipsets for signaling, voice processing and interactive voice response (IVR), the gateways provide true full channel availability.
Offering the industry-leading highest port density and the lowest operating cost for a media gateway in a 1U form factor, the TMG800, and 3200 media gateways easily scale as service uptake increases, with expansion cards for IVR, VoIP, and TDM. Importantly, with an average 2/3rds less power consumption than competing products of similar capacity, the TMG800 and 3200 media gateway supports the drive-by service providers to reduce the environmental impact of their network footprint and increase their green credentials.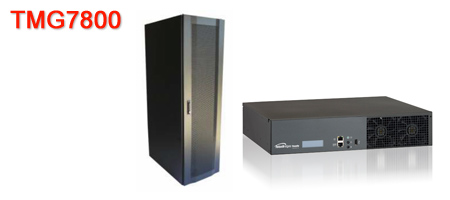 ---
Media Gateway Categories
VoIP Media Gateways (Tmedia)
TelcoBridges Tmedia family of VoIP media gateways are the industry's most reliable & stable gateways while being highly available, scalable & flexible. They are an ideal solution deployed as a Trunking Gateway, VoIP gateway, Media Gateway, or Signaling Gateway.




Hybrid SBC Gateways (Tmedia)
TelcoBridges Tmedia family of hybrid session border controller media gateways are the industry's most reliable and stable hybrids while being highly available, scalable and flexible. They are an ideal solution deployed as VoIP gateway, Media Gateway, or Session Border Controller.




Signaling Gateways (Tsig)
TelcoBridges Tsig™ family of Signaling/SIGTRAN gateways are the industry's most reliable & stable signaling gateway.

Transcoding Gateway (Ttrans)
TelcoBridges Ttrans™ family of Transcoding gateways are highly stable, reliable, scalable, flexible, and predictable

Development Platforms (Tdev)
TelcoBridges Tdev™ product family of telecom development platforms are the industry's most adaptable, scalable, and powerful development platform.

Network Monitoring
The TelcoBridges Tmonitor™ product family provides high-performance, non-intrusive, full-duplex monitoring and filtering of voice and data traffic. Perfect for advanced troubleshooting
Have more questions about Media and VoIP Gateways? Call us at 410-583-1701 or email us at questions@pulsesupply.com.