RSS Digital A/B Switching System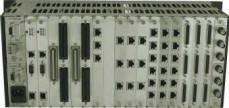 Features
Switch up to 16 A/B Ports, Individually or Gang
IP/Internet access and Control
SNMP Managed
Option for Redundant Power or/and Control Card
Supports RS-232/V.24, RS-530/422, V.35, Ethernet, RJ-45, DS-3 and 50 pin amphenol interfaces
Supports DB-9, DB-15, DB-25, RJ-45, Dual BNC and V.35
Perfect for Lab environments, Disaster recovery, offsite backup, SCADA, E911 centers and more
AC or DC power
Description
The Redundancy Switching System (RSS) provides reliable switchover of communications circuits for line protection and equipment redundancy applications. Create fault-tolerant systems with either simultaneous (gang) switching or independent control of each A/B switch.
These physical layer switches allow redundant systems to be automatically, remotely or manually operated, insuring maximum uptime for critical communication circuits.
Relay based switch modules insure communications, even when power is removed or control connections are down. This fail soft technology is optimized for applications.
Network operations require 24/7/365 non-stop uptime. Insure your network uptime with Dataprobe redundancy solutions.
A/B switch cards are available in standard communication interfaces. Each A/B switch card includes the proper connectors; no additional interface modules are required. A/B switch cards support all the leads in their respective interfaces, making them ideal for a wide variety of circuit arrangements.
Pulse Supply has many more products and solutions than listed. Please call us or email for a free consultation.