IP-900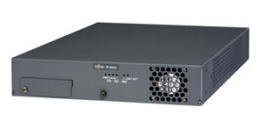 Features
HDTV and SD over IP
Compact Broadcast-quality H.264 HP@L4 HD Including HP@L3 SD
Data Stream Protection with Advanced FEC/ARQ
Simulcast HD/SD 4:2:0 Content in Dual Channels
VoIP Full Duplex Communication
Real-time HD/SD Content Delivery over IP Networks at Very Low Data Rate
Low Encode-Decode Latency Mode as Low as 400 ms
Compact 1U High Chassis
UL, CE, FCC, RoHS Certifications
Description
The Fujitsu IP-900 HD/SD encoder utilizes advanced H.264 encoding for bandwidth efficient real-time transmission of digital media content over IP networks.
The compact, rugged and lightweight IP-900 is ideal for fixed and mobile applications. The low encode-decode latency of less than 400ms makes it well suited for remote news capture and live-event applications.
Utilizing advanced H.264 HP@L4 image processing algorithms, the IP-900 produces exceptional video performance over IP contribution and distribution networks. High performance H.264 compression algorithms reduce the streaming bit rate by about 50% compared to MPEG-2 systems while preserving video fidelity. HD content can now be transported over existing private or public IP network as low as 1 Mbps.
Powerful error correction and retransmission (FEC/ARQ) technology enables the IP-900 to transmit a robust, error free transport stream across private and public IP networks.