Kilomux 2100/2104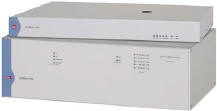 Features
Modular integrating access multiplexer for data, voice, fax and LAN
Advanced voice compression techniques maximize utilization of main link bandwidth and provide high quality low bit rate voice from 4.8 to 16 kbps per channel
Kilomux main link modules support Fractional E1/T1, Fiber, switched or leased ISDN, and DDS links. Main links data rates range from 9.6 to 1536 kbps
TDMoIP main link enables operation over IP/Ethernet based networks
Operation over radio and satellite links is enabled by main link buffers and echo cancellers implemented in the voice channels
Analog and digital voice interfaces, with fax and data modem transmission support
Two models are available:

Kilomux-2100 (3U high) supports up to 12 I/O modules
Kilomux-2104 (1U high) supports up to 4 I/O modules

Kilomux-2100 supports optional redundant power supply
Kilomux-2100 supports dual main links for load sharing, Drop & Insert or backup
Wide range of I/O modules support:

Async data
Sync data
ADPCM/PCM voice
MPMLQ and PCELP compressed voice with fax/data modem relay
LAN internetworking

Management via ASCII terminal, Telnet or RADview SNMP network management system
Description
The compact, modular Kilomux time-division multiplexer supports data, voice, fax and LAN traffic over one or two main links, at rates from 9.6 to 1536 kbps each.
Kilomux can be connected to services including leased line and DDS, as well as ISDN and Fractional E1/T1. Main link buffers and echo cancellation on the voice channels ensure full operation over radio and satellite.
Kilomux supports both analog and digital voice interfaces for direct connection to PBX tie lines and extensions, ISDN PBX extension lines, telephone handsets and E1/T1 trunks.
Kilomux uses time-division multiplexing (TDM) techniques to ensure minimal delay and protocol transparency, so that applications such as SNA and voice are assured the bandwidth and short delay they require.
Kilomux traffic can be transported over IP or Ethernet-based networks, using its TDMoIP main link module.
Kilomux enables transmission of high quality voice (either compressed or uncompressed). It supports the following:

PCM (64 kbps)
ADPCM voice compression techniques for voice, fax and data transmission (32 kbps)
MPMLQ voice compression algorithm enable voice, fax and data transmission at rates ranging from 16 kbps down to 4.8 kbps
Supported standard fax and data modem relay rates are between 14.4 to 2.4 kbps.

Kilomux can be used in point to point applications between two sites, or in "V" or chain applications for multiple sites.
Kilomux supports two independent configuration databases (day/night) and can switch between them in case of any network event. This feature enables alternate routing in case of failure.
Various timing modes are available, enabling the system to take the received clock from a main link, a sub channel or an internal oscillator clock.
KILOMUX PRODUCT LINE
The Kilomux product line features two chassis models for different network needs. The modular Kilomux design makes it easy to upgrade and customize by adding I/O and System modules.
Kilomux-2100
Kilomux-2100 is a modular, 3U high device that supports system modules, up to 12 I/O modules, and optional redundancy for main link and power supply. Kilomux-2100 features:

A powerful CPU, able to meet future requirements
Software download capability to facilitate system upgrades
Full SNMP agent, providing improved RADview support (faster operation, capable of multiple unit management from a single station)
Ethernet management port
Telnet support.
Kilomux-2104
With its compact size of only 1U, the Kilomux-2104 was designed for applications at smaller sites. Kilomux-2104 supports up to 4 I/O modules, and is limited to a single main link and a single power supply.

Note: Kilomux-2100/2104 are functionally compatible with the Kilomux-2000/2004, and support all Kilomux 2000 I/O, Main Link and System Modules.

MAIN LINK MODULES

Several different types of Kilomux main link (KML) modules are available for compatibility with various digital data service interfaces and public services.
Interfaces supported: V.35, V.24/RS-232, V.36/RS 422/RS-530, X.21, G.703, standard CSU/DSU for DDS services, Fractional E1/T1, ISDN Basic Access.
TDM over IP main links support interfaces for 10/100BaseTx and fiber optic interfaces for 100BaseF Ethernet networks.
The Kilomux-2100 supports up to two main link modules. The second main link module can be used as a redundant link for backup, or as a load-sharing link to provide double capacity.

SYSTEM MODULES

KCL.2

Kilomux's Common Logic control module monitors system operation, sets configuration and ensures communication with the management station. Common Logic modules can also be ordered separately for special purposes.

KDI

KDI is a system module that provides Drop & Insert functionality for dual-link Kilomux-2100, by bypassing any channel or combination of channels between link A and link B (see the Applications section on the following page). Refer to the separate KDI data sheet for more details.

I/O MODULES

Up to 12 I/O modules can be accommodated by the Kilomux-2100 chassis. Up to 4 modules can be accommodated by the smaller Kilomux-2104.

High Speed KHS Modules

Kilomux high-speed sync data modules operate at selectable data rates from 2.4 to 614.4 kbps per channel. Interfaces supported include V.35, V.36/RS 449, X.21, RS 530, as well as BRI ISDN, G.703.

Low Speed KLS Modules

Low speed sync/async modules and statistical multiplexing data modules operate at selectable data rates from 0.3 to 64 kbps per channel.

Voice KVC and Voice/Fax/ Data Modem KVF Modules

Support is provided for standard PCM and 32 kbps ADPCM voice, or high quality compressed voice. Advanced speech coding techniques include G.723.1 MPMLQ, which offers very high quality voice at bit rates as low as 6.4 kbps, and PCELP at 4.8 kbps.
Voice/fax/data modem modules support automatic fax/data modem identification; enabling Group III fax and data modem transmission at rates up to 14.4 kbps.
Both analog and digital voice interfaces are supported for connection to PBX tie lines, extensions or directly to telephones, as well as to E1/T1 trunk connections and ISDN PBXs.

LAN Modules

Ethernet and Token Ring Internetworking modules connect between remote Ethernet and Token Ring LANs.

DIAGNOSTICS

Kilomux incorporates numerous test features for easy maintenance and fast fault detection. On power-up and during normal operation, automatic self-test and link-tests are performed. Any problems are reported to the system management.
Local and remote loops can be performed for every main link and I/O channel via user commands. Additionally, a built-in BERT can test any I/O data channel.

MANAGEMENT

Kilomux system operation and management - including configuration, diagnostics, and monitoring of the local and remote units - can be performed via ASCII terminal, Telnet or RADview.

ASCII Terminal

An ASCII terminal can be connected locally, through a dial up modem or via Telnet.

RADview Management System

RADview, RAD's Network Management System running over PC or UNIX (HP OpenView), enables complete monitoring and control of multiple Kilomux-2100/2104 chassis from a central station via a user friendly GUI.
The system provides direct on-line supervision, configuration, diagnostics and alarm reception. Storing all configuration information in non volatile memory ensures data integrity in the event of power failure