ASM-60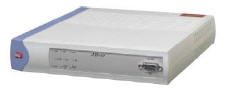 Features
4-wire VDSL-based modem, enabling symmetrical full duplex data transmission for ranges of up to 2.0 km (1.2 miles)
Supports high speed data rates up to 10.24 Mbps
Employs VDSL QAM line coding for better bandwidth utilization
Supports Ethernet and high speed DTE interfaces
Setup, control and monitoring via an ASCII terminal connected to the supervisory port
Diagnostics include LEDs testing and VDSL performance monitoring
Model ASM-61 available for 2-Wire applications
Description
Using symmetrical VDSL technology, ASM-60 operates at rates up to 10 Mbps over 4-wire lines. The ASM-60 extends the range of digital equipment up to 2 km (1.2 miles) over 24 AWG (0.5 mm) 4-wire copper cable. This eliminates the need for optical cable in the Last Mile (Local Loop) or in the campus network environment.
The ASM-60 compensates for line impairments and mixed cabling by using advanced equalization, adaptive filtering, echo cancellation technology and QAM line coding.
Setup, control and monitoring of status and diagnostic information can be performed using an ASCII terminal connected to the async control port.
The ASM-60 is available as a standalone unit which can be mounted in a standard 19" rack using special hardware. Two ASM-60 units can be mounted side-by-side.
The ASM-61 (not shown) does 2-wire lines.