IMX-2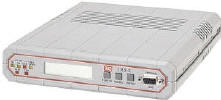 Features
Supports ISDN backup of leased lines and Dynamic Bandwidth Allocation
Provides Bandwidth On Demand (smart terminal adapter)
Operates over a combination of two switched (B channels) and one leased line
Integrated terminal adapter supports Euro-ISDN, 5ESS, National ISDN (NI1), DMS-100 and NTT
Supports "S" and "U" interfaces
Supports S0 leased line
Supports BONDING 1, 2 and 3 protocol specifications
Differential delay of up to 512 msec
Configuration via front panel or control port
Resilient operation with failure recovery SNMP support using SLIP protocol
Software download via Xmodem protocol
Description
The IMX-2 is an inverse multiplexer that splits incoming data between a leased line and an ISDN link, according to mode of operation, line availability and traffic load.
Typical applications for the IMX-2 include leased line backup, dynamic bandwidth allocation and bandwidth-on-demand.
The IMX-2 offers a large choice of interfaces on the network side as well as the data ports. It connects to basic rate ISDN (BRI) switched digital service and supports S and U interfaces, as well as S leased line interface (S0). It also supports one dedicated circuit (leased line) with all popular interfaces: V.35, V.36/RS-422, RS-530 or X.21.
For applications such as videoconferencing that require switched connections, the IMX-2 can act as a smart terminal adapter and call up to two B channels to provide 128 kbps aggregate bandwidth.
The IMX-2 provides command-driven software control of configuration, diagnostics and alarms via a terminal connected to the supervisory port. SNMP over SLIP support is also available.