CORE and EDGE ROUTER PRODUCTS
---
Routers connect separate networks by using packet-based communications with IP being the most prevalent. The Internet is made of millions of routers worldwide. Routers read incoming packet addresses and determine where the packet should be forwarded to in order to reach their final destination. Routers must be sized and configured for a particular application, the type of traffic, and the amount of bandwidth it will handle. Typically Routers are designated by Core and Edge applications where core routers are more powerful for Enterprise and Data Centers. Edge routers provide the requirements of individual businesses and organizations.
Core Routers
Pulse recommends, supports, and sells the Arista Networks core routers.
Arista Networks Routers provide the following features:
A leader in the core routing market
Support for all standard-based protocols
Incredible speeds up to 400Gb
Incredible density and scalability
Superior management tools
Advanced EOS technology
CloudVision networking
Support for 10/25/40/100 speeds
Cloud-based Wifi and management
High-Speed TAP
Visit the full section of Arista Networks core routers
Edge Routers
Pulse recommends, supports, and sells the Adtran Netvanta products and solutions.
Netvanta Routers provide the following features:
Number 2 in the edge routing market
Support for all standard-based protocols
Industry-leading 5 Year North American Warranty
No need to relearn programming for Cisco© trained personnel
An intuitive web-based graphical interface
Stateful inspection firewall
QoS, NAT, and DHCP services
Standard and 7x24 Support contracts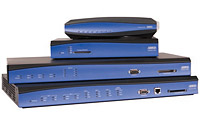 ADTRAN developed the NetVanta family of access routers to provide you with a wealth of affordable, diverse networking solutions that meet the need for secure, cost-effective Internet access and multisite business connectivity. Our portfolio of NetVanta Multiservice, Modular, and Fixed-port Routers is perfect for deployment in branch offices or in multi-site networks for applications ranging from bandwidth expansion and VoIP to point-to-point connectivity, MPLS networking, VPN, ADSL, and Ethernet access.
Some of our best ADTRAN NetVanta Routers include:
NetVanta 3140
NetVanta 3430
NetVanta 3448
NetVanta 5660
Adtran's access routers support for next-generation technologies such as Carrier Ethernet and 3G wireless and a differentiating set of ease-of-use, management, security, and troubleshooting features like Voice Quality Monitoring. With the broadest line of routing products on the market for Small and Medium Business networks and diverse enterprise offices, NetVanta access routers offer value-driven products you can count on.
Download the Netvanta Business Networking Solutions Brochure to get started.
Visit our full section of Adtran Netvanta products
WISP Routers

Pulse Supply also carries MicroTik routers for a cost-effective high throughput router option. Check out the entire Router product line!!
Pulse Supply has many more Router products and solutions than listed. Please call us or email us for a free consultation.