Cellular to Legacy Serial Data Gateway Products
These products emulate standard Legacy Serial (RS-232 and RS-485) over 2G/3G and 4G/LTE cellular networks. This allows legacy equipment based on traditional serial data communications to be utilized. These legacy devices include ATM machines, Fire Alarms, Elevators, and industrial machines.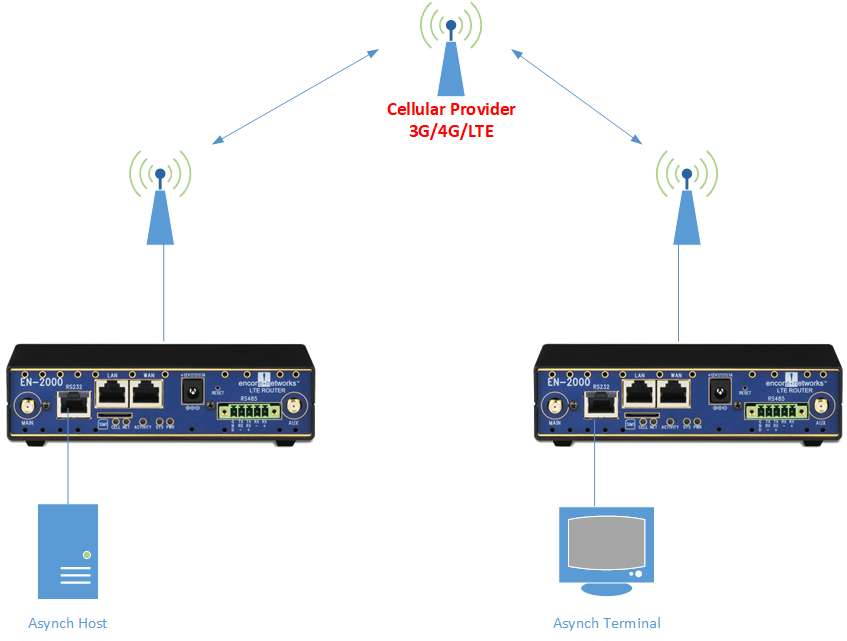 ---
GENERAL FEATURES
Broadband Router
Secure VPN router
Modem/Cellular IP Pass-Through/Bridge Operation
QoS enforcement to prioritize critical traffic
SECURITY APPLIANCE FEATURES
Stateful inspection layer 4 Firewall, NAT, NAT Port Forward
HTTPS-SSL
SSH (Secure Shell)
IPsec with AES 256 and 3DES 4 tunnels max
Dead Peer Detection plus NAT Traversal
Generic Router Encapsulation GRE (RFC 1701)\
Internet Key Exchange – IKE V1, V2
OpenVPN
IP TRANSPORT PROTOCOLS
Static routing
DHCP client/server
IP QoS and traffic prioritization
IP fragmentation/reassembly
IP routing over VPN; TCP and UDP
IPv6 Support
Virtual Redundant Routing Protocol (VRRP)
Asynchronous PPP
DMNR
PPPoE
CELLULAR
AT&T; LTE CAT 4 150/50 Mbits – Bands, 2, 4, 5, 17 – UMTS 850/1900
T-Mobile; LTE CAT 4 150/50 Mbits – Bands, 4, 12 – UMTS 850/1900
Verizon; LTE CAT 4 150/50 Mbits – Bands 4, 13
WIFI
Support for 2.4 and 5 GHz
Autoselect between 802.11a/b/g/n
WEP or WPA-PSK encryption
WiFi Access or Client
PHYSICAL FEATURES
LEDs for cell module, system status, network status, and power
LEDs for LAN/WAN and Cellular signal strength indication
One 10/100 Mbit/s Ethernet RJ-45 (WAN/LAN) – WAN is the factory default
One 10/100 Mbit/s Ethernet RJ-45 (LAN)
One RS-232
One RS-485
Reset Switch
Two SMA antenna connections for embedded internal cellular radio
Two SMA antenna connections for detachable WiFi antennas
One Accessible SIM Slot
Power Input
Optional DIN Rail Clip
Download our popular Cellular to Legacy Serial Products:
Pulse Supply has many more products and solutions than listed. Please call us or email us for a free consultation.