Products and Solutions for Remote Control and Monitoring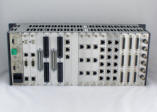 Redundancy Switching System
The Redundancy Switching System (RSS) provides reliable switchover of communications circuits for line protection and equipment redundancy applications. Create fault-tolerant systems with either simultaneous (gang) switching or independent control of each A/B switch.
These physical layer switches allow redundant systems to be automatically, remotely or manually operated, insuring maximum uptime for critical communication circuits.
Relay based switch modules insure communications, even when power is removed or control connections are down. This fail soft technology is optimized for applications including:
Disaster Recovery
Air Traffic Control
Network Operations
SCADA
Computer Telephony
Data Center Hotsite
E911 Safety
Trunking Redundancy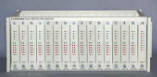 TAP-S Automatic Protection Switch
Provide T1/E1 protection to multiple circuits with this card/chassis system. Up to 15 primary/redundant circuits can be supported in the rack mount chassis. Each T-APS-R card provides a complete independent T1/E1 protection switch. All cards are managed from one network or serial interface with simple web pages and telnet menus.
All of the features of the standalone T-APS are supported in the card version.
The chassis supports either 48VDC or 120/240VAC with external power supplies. T1/E1 terminations are via RJ45 Modular Jacks.
FEATURES
T1 or E1 interface selectable
Dual or Single Ended Applications
1+1 and 1:1 APS Protection Modes
Selectable switching activation thresholds.
Selectable line validation thresholds.
CPE check to prevent false switching
Configurable via front panel or RS-232 port
SNMP Manageable
Both active and standby line status monitoring.
T1/E1 circuitry relay alarm output.
Power-Fail cutout circuit
Local Loopback and Remote Loopback functions.
Local and remote control of switching functions.
2 X 24 LCD display panel
Dual Power Inputs -48 VDC and 90 ~ 250 VAC power input (DC Priority)
---

i-BOOT
Remote Reboot - Power Control
Get all the power of the iBoot and more with these remote reboot power strips. Control each outlet independently from Web, Telnet, SNMP.. Create fault-tolerant systems with either simultaneous (gang) switching or independent control of each A/B switch.
Have network access plus out-of-band control via serial port and internal modem with both data and DTMF tone dial control. Wherever you are, you are in complete control.
iBootBar is available with single or dual power inlets. Dual power is ideal for remote reboot control servers, routers, etc. with redundant power supplies. Simultaneously switch both supplies off and on for reboot, security or energy management. These models are also ideal for switching higher current devices. Each inlet is distributed to 4 outlets, which can be switched in pairs for redundant systems, or individually for higher current devices.
Models are available for North American 15 and 20 amp circuits, as well as international 115/230 VAC, up to 20 amps.
Web and DTMF Tone Control in the same unit!
Multi-Outlet, Multi-User Remote Reboot
Outlet Grouping for Simultaneous Switching
Current Sensing and Alarming
Expandable to 128 Outlets
AutoPing for Automatic Failure Detect and Reboot
SNMP Manageability
Full Compliance - UL - CE - FCC

i-Boot G2
Remote Reboot
Don't let the cost of downtime keep you from meeting your service and revenue expectations. Keep your critical systems running without expensive service calls. Use low-cost remote power control to automatically reboot failed devices and get up and running in the most cost effective way possible.iBoot-G2 is the next generation remote reboot unit. It will save you time and money by reducing costly downtime. Just point your browser to the iBoot®, login and you are one click away from bringing that failed system back to life. iBoot® will even detect failed systems and take action.
Web Browser Power Control
12 Amps A/C Power Switching
IEC connectors with NEMA cords.
10/100 Network Connection.
Telnet control; Command Line Interface (CLI).
Dual AutoPing with Logical AND/OR Setup.
Real Time Event Scheduling.
Software Developer Tools
Wall and DIN Rail Mounting
Expansion to independent control of three outlets
General Purpose I/O independently monitored and controlled
Heartbeat Monitor - Automatic Failure Detection
USB Port for direct PC communication for
Serial Command Line Interface Access
---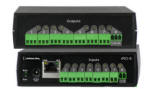 i-PIO8
Web Relay Control, Ethernet I/O & Contact Closure
The iPIO-8 is a network attached, IP addressed digital input and output device.. The iPIO-8 can be controlled and monitored with a standard web browser. Multiple ipIO-8 devices can communicate amongst themselves to transport I/O information across the network.
Highly flexible telemetry systems can be developed with these simple devices. Dataprobe can also taylor Custom and OEM applications for your specific needs from this flexible development platform.
Web Browser Relay Control
Ethernet I/O
Transport GPIO over the Network
Contact Closure via IP
Link Supervision with Alarm
Email Notification
SNMP Manageable
SSL and AES Encryption
8 Form C Relays
8 Digital Inputs - Wet or Dry
One Input to Many Outputs
Many Inputs to One Output
Any to Any - Many to Many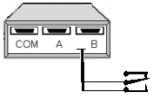 KAB
Relay Controlled A/B Switches
Control A/B Switches with any switch closure, relay, or remote control system..Works with all Dataprobe Remote Control systems.
Dataprobe's Relay Controlled A/B Switches, (K-AB Series) permits automatic, remote or manual switching of a Common line between two circuits, A or B. Multiple relays are used to switch the following circuit types:
D25: 25 Pin D Subminiature Connector, All Pins Switched. Supports RS-232, RS-530
D15: 15 Pin D Subminiature Connectors; All Pins Switched. Supports T-1, AUI
D9: 9 Pin D Subminiature Connector, All Pins Switched. Supports Com Port Serial
RJ8: 8 Position, 8 Wire Modular Jacks; All leads switched.
Supports RJ48C, RJ48S, RJ45 and all 8 position modular jack specifications.
BNC: BNC Type Co-Axial Connector, Female.
HZ-BNC: Hi- frequency module, BNC Type Co-Axial Connector, Female - 50 or 75 ohm
DS3: Same as above but with special Dual BNC Module, individual transmit and receive circuits 45 Mhz.
T50: 50 Pin "Telco" Connector (Amphenol RJ-21X), All 50 pins supported
When the relays are in the relaxed position, the Common Port is connected to Port A (Position A). When a selected external control signals is supplied, the relays are energized and the Common Port is connected to Port B (Position B). The K-AB-T1 returns to the A Position when the de-energize conditions are met.
In addition to Contact Closure/Contact Open, the K-AB also supports DC voltage + or - . Simple jumper configuration selects the switching method.
Manual Toggle Switch Control
A front panel three position switch allows Automatic or Manual Control. In the AUTO position, the K-AB switches on the selected Control Signal. In the Manual A or B Position, these controls are locked out and the relays assume the selected position.
Status Indication
Two front panel LED's indicate switch status. Remote alarms or displays can be controlled by the K-AB status signals, form C relay contacts. Status contacts are connected on a 9 pin D'Subminiature Connector on the rear panel
---
Pulse Supply has many more products and solutions than listed. Please call us or email for a free consultation.