HTU-E1/T1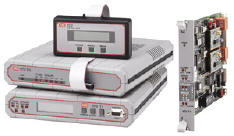 Features
HDSL NTU/LTU enabling transmission of 2048 kbps E1 and 1544kbps T1 data over unconditioned twisted-pair lines
Extends the data transmission range of up to 9.2 km (5.7 miles) with the H-RPT repeater or up to 4.8 km (3 miles) without the H-RPT repeater
Operates opposite RAD's HCD-E1, HCD-T1, HTU-2 and H-RPT
Complies with the ETSI HDSL standards
Supports unframed or framed E1 or T1
Setup, control and monitoring using front panel, ASCII terminal or SNMP-based network management station
Control of the remote unit via embedded operation channel or inband management
Timeslot priority bumping
Call-out capabilities supported via the control port
Alarm buffer holding up to 100 alarms
Remote power feeding from a modem card or standalone unit
Enhanced diagnostics include:

Loopbacks on the HDSL lines and E1 or T1 port
E1 or T1 and HDSL performance statistics collection

High voltage line protection in compliance with ITU K.21
Available as a standalone unit or as a card for the LRS-24 rack
Description
HTU-E1 is an access unit that converts the 2048 kbps E1 or 1544kbps T1 signals into HDSL transmission format. The conversion extends the transmission range to cover 4.8 km (3.0 miles) over a 4-wire link (24 AWG/0.5 mm) without the need for repeaters or fiber optic link.
Transmission of HTU-E1 complies with the ETSI HDSL standards. Using advanced equalization, adaptive filtering, echo cancellation technology and 2B1Q line coding, the unit compensates for line impairments, bridge taps and mixed cabling. High immunity to background noise enables transmission of the multiple HDSL lines in the same physical cable.
Setup, control and monitoring of status and diagnostics information can be performed using one of the following:

Front panel LCD with three buttons, using menu-driven management
ASCII terminal connected directly or via a dial-up modem to the async control port using command line interpreter
SNMP management station connected to the async control port, using Serial Link Interface Protocol (SLIP).

An embedded channel in the HDSL transmission provides both control and diagnostic capabilities from the centrally-located HTU-E1 to the remote unit at the customer's premises. The user can monitor the link and alarms, and perform online configuration, as well as diagnostic loopbacks to the remote unit.
The priority bumping feature allows the user to select the timeslot priority (high or low). In this case, if one of the lines is down, HTU-E1/HTU-E1L continues to send data over the HDSL link.
Timeslot assignment is programmable, allowing data from the E1 port to be placed into timeslots, either consecutively or alternately. In addition, the central HTU-E1 or HTU-T1 provides full user control over the timeslot allocation of the remote HTU-2/HCD-E1 or T1 data ports, or HCD-E1 or T1 sublink.
The standalone HTU-E1/PF and HTU-E1C/P card provide remote power feed for the HTU-E1L/P unit or H-RPT HDSL repeater. For the remote power feeding via the HTU-E1C/P card, a standalone power supply, LRS-PS-FEED, should be ordered separately.
HTU-E1 orT1/HTU-E1L or T1L supports call-out of the alarm conditions via its front panel control port.
HTU-E1 or HTU-T1 supports an internal SNMP agent and can be controlled by the RADview SNMP network management application, as well as by any generic SNMP station.