Megaplex 2100/2104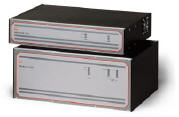 Features
Flexible Integrating Access Device (IAD) for deployment of multiple services at customer location
Integrates data, voice/fax and video traffic over up to 4 full E1 or 5 full T1 main links with non-blocking, DS0 cross-connect
Supports multiple Fractional E1/T1 main links
Wide range of I/O modules support up to:

40 high speed data channels
132 low speed data channels
55 full BRI (2B+D) channels
120 PCM voice channels

V5.1 support for standard POTS and ISDN interface to the local exchange
Supports R2 signaling
Optional redundant configurations support critical business applications
Two chassis types:

MP-2100 (4U-high) supports up to 12 modules
MP-2104 (2U-high) compact version supports up to five modules

Built-in fiber optic and HDSL modems reduce deployment and maintenance costs
PCM, ADPCM digitization and G.723.1 low-bit-rate compressed voice
Ethernet LAN modules
Management through ASCII terminal or SNMP
RADview SNMP management with graphical user-interface on PC or UNIX (HP OpenView) platform
Telnet support for remote management
Non-volatile, Flash memory for software upgrade and configuration download
DL (download) and TFTP support for Common Logic software upgrade
Supports standard management protocols:
SLIP, PPP, PPPHDLC, IP Over Frame Relay (RFC 1450) and RIP2
Description
Megaplex-2100 is a flexible TDM Integrating Access Device (IAD), enabling the integration of multiple dedicated data, voice, ISDN, video and LAN channels onto multiple main (network) links. Megaplex-2100 features a traffic payload capacity of up to 124 DS0 timeslots. This payload can be transmitted over 4 full E1 or 5 full T1 links, or alternatively, over multiple Fractional E1/T1 links.

Note: Megaplex units with CL.2 common logic provide a maximum payload capacity of 124 timeslots (4 full E1 / 5 full T1). Units with CL.1 are limited to a maximum capacity of 62 timeslots (2 E1 / 2.5 T1).

Megaplex-2100's modular design with its wide choice of I/O (user interface) modules, ensures the flexibility to support applications ranging from small campus networks to multi-site corporate networks or extensive carrier access solutions. Due to its standards-adherence, central-office-based cross-connect units can separate voice and data, sending each to the appropriate carrier or service.
Megaplex-2100 enables carriers to successfully deploy bundled services, ISDN services and Internet access. The integration of a broad range of services makes Megaplex-2100 a cost-effective IAD, with reduced deployment and maintenance costs.
Megaplex-2100 is available in two basic unit chassis variants:

Megaplex-2100 (4U high) chassis providing slots for up to 12 ML and I/O modules
Megaplex-2104 (2U high) chassis providing slots for up to 5 ML and I/O modules.

Megaplex-2100 conforms to international standards, ensuring compatibility in multi-vendor environments worldwide
FULL CROSS-CONNECT
The built-in, non-blocking, DS0 cross-connect matrix enables freely routing any channel's timeslots to any link. This capability enables, for example, Megaplex-2100 to maximize efficiency by splitting voice and data channels and redirecting the traffic, via separate links, to the appropriate service.
The cross-connect matrix also enables routing timeslots from any link to any other link. This facilitates drop&insert, bypass or broadcast multi-link applications.
A total of 124 timeslots can be allocated, either for transmission of I/O channels or for bypassing timeslots between links of different modules.
Note: Currently only HS-U-12 and VC-16A modules can utilize the full 124 timeslot payload; other I/O modules are limited to 62 timeslots.
V5.1 SUPPORT
Megaplex-2100 with the V5.1 main link interface facilitates the connection of PSTN and ISDN residential and SOHO users to V5.1 local exchanges. V5, the ETSI standard interface, operates between the access network and the switch for basic telephony, ISDN and semi-permanent leased lines. The V5 standard effectively opens the access network to competition and allows operators to deploy optimal access technology.
R2 SIGNALING SUPPORT
Megaplex-2100 main link (ML) modules support R2 signaling with transparent MFC/DECADIC for setting up, metering and disconnecting phone calls. This enables placing Megaplex-2100 between an older R2-PBX and a digital (E1-CAS) PBX. The MFC/DECADIC signaling is not terminated by the Megaplex-2100, but passed on to the PBX.
In addition to the ITU-T standard R2 protocol, several predefined national PTT protocols, as well as user-definable variations, are also supported. Since R2 signaling support is provided by the ML, all voice modules can support R2.
SYSTEM RELIABILITY
Megaplex-2100's modular, distributed architecture enables redundancy at different levels of the network and provides a system with no single point of failure.
System hardware redundancy is provided through optional redundant power supply and common logic (MP-2100 chassis only).
1:1 protection switching on the main link modules protect against network or cable failure. Additional ML modules can be installed and interconnected via Y-cables to provide protection against ML hardware failures.
n case of link failure, Megaplex-2100 enables alternate routing. This is achieved by storing multiple configuration databases and flipping (switching) between them in case of any network event.
COMMON LOGIC MODULES
The Common Logic (CL) module stores up to 10 (dependant on application complexity) databases for independent configurations. The CL also stores all system event information. Flash EPROM for software download is provided.
Two dedicated ports are provided on the CL module for management purposes. One port has a 9-pin DCE interface for a management terminal or PC. The other is ordered with one of the following options:

Ethernet 10BaseT (UTP)
Ethernet 10Base2 (BNC)
V.24/RS-232 DTE.
MAIN LINK MODULES
Megaplex-2100 E1/T1 main link modules allow direct connection to a diverse range of services, eliminating the need for external equipment. Multiple active links can operate in each chassis. Additional ML modules can be installed for link redundancy.
The various ML modules can be used for a broad range of configurations: from single link non-redundant operation, to multiple full or Fractional E1/T1 link applications supporting drop&insert, and broadcast.
Unique E1/T1 link modules with built-in fiber optic (ranges up to 100 km/62 miles) or HDSL (ranges up to 4.8 km/3.0 miles) modems, reduce the cost of local loop solutions by lowering equipment deployment and maintenance costs.
The dual-trunk main link modules increase efficiency and support 1:1 protective switching between the links within 50 msec.

Note: dual-trunk main link modules are supported only by units with CL.2.

System timing options available are:

Internal crystal oscillator
Link receive clock (loopback)
Station clock
Clock from any high speed module channel.

Any clock source can be set as fallback in the event of primary clock source failure.
I/O MODULES
11 I/O modules can be placed in an MP-2100 chassis (up to 4 I/O modules in an MP-2104). If more I/O modules are required, multiple Megaplex units can be cascaded.
High Speed Data Modules
High speed data interface modules, operating at multiples of 56 or 64 kbps, up to 2.048 Mbps, enable connection to routers, bridges, front-end processors, and other high speed devices.
E1/T1 interface modules with built-in HDSL modems, enable cost-effective long range deployment of high speed services over 2 or 4-wire copper lines. Maximum range is up to 4.8 km/ 3.0 miles over 4-wire lines (for T1).
ISDN BRI modules with up to 12 channels, enable extension of ISDN services over non-ISDN facilities, supporting data, voice and video applications. The "U" interface modules include IDSL technology for "last mile" applications.
Low Speed Data Modules
Sub-rate multiplexer modules for low speed (2.4 to 19.2 kbps) synchronous and asynchronous data channels. Modules available to support standard X.50, X.58 or SDM (DS0-B) multiplexing techniques.
Low speed modules with 6 or 12 sync/async V.24/RS-232 channels, with independent channel rates up to 64 kbps. 4-channel sync/async module with V.110 rate adaptation also available.
Voice/Fax Modules
Voice/fax modules provide toll-quality voice transmission using standard PCM digitization (ITU-T G.711), as well as ADPCM (G.726), MPMLQ (G.723.1), or P-CELP 4.8 kbps compression. Standard analog interfaces are available to enable direct connection to POTS, public payphones, LB field phones, PBX extensions or 2/4-wire E&M trunks. Alternatively, E1 and T1 digital PBX interfaces are available for the voice compression modules. Loop-start, wink-start and ground-start signaling methods are also supported.
LAN Modules
Ethernet router/bridge internet modules, compatible with the LAN RANger remote access family or third party routers/bridges. These modules enable LAN to LAN extension over E1/T1 services.
MANAGEMENT
Megaplex-2100's configuration parameters are user-programmable, with all configurations saved in non-volatile memory.
Megaplex-2100 communicates with the management station by means of its SNMP agent (via a SLIP/PPP or TCP/IP connection). Network management provides centralized control of all network nodes, including interface configuration, connection setup, alarms and management.
Megaplex-2100 can be managed by either UNIX or PC-based network management systems. The RADview network management applications are user-friendly, GUI-based, and available for either PC/Windows or HP OpenView UNIX systems.
Programming and setup of a remote Megaplex-2100 can be performed:

Out-of-band, using the Ethernet management port. This simple and efficient method takes advantage of IP bandwidth on demand, while saving link bandwidth for user traffic.
In-band over a dedicated timeslot, supporting standard PPP, FR encapsulation, and RIP2 protocols.
Over a modem link or over a FRAD, via the control port of the remote unit
Diagnostics
Megaplex-2100 incorporates test features for rapid fault detection and easy maintenance. Upon power-up, all system and I/O modules perform self-testing. Any problems are reported to the management system. Local and remote loops may be performed on each channel or main link.
Alarms
All alarms, including state and frequency of occurrence, are stored in the CL's alarm status buffer. Last 256 alarms are kept in a separate alarm history buffer.
Alarm status can be automatically read online by the management system from any node. User-set alarm masking, filtering and inversion, as well as 5-level prioritization are also supported.