ADTRAN 900E IP BUSINESS GATEWAY SERIES
---
The Adtran 908e, 916e, and 924e series of IP Business Gateways are the choices of most service providers and small to medium-size businesses for connecting branch offices. No other device provides so many connectivity options and reliability with such value. The integrated options for connectivity include IP, SIP, T1, PRI, FXS, and Routing to provide any branch office connectivity requirement. Pulse Supply is your distributor and technical resource for all things Adtran, Call or Email today to learn more about this solution and pricing.


Adtran Total Access Features and Benefits
Market-leading IP Business Gateways, with 40 percent higher performance than previous generations (2nd Gen)
Seamless voice and data integration over VoIP-based network architectures
Designed for Ethernet and Multi-T1 applications
Optional eSBC functionality
Up to 24 analog POTS interfaces
Optional outbound lifeline via FXO
Compatible with industry-leading soft switches and call agents
Dynamic bandwidth allocation affords more efficient utilization
An integral full-featured business-class IP router
Stateful inspection firewall for network security
Quality of Service (QoS) for delay and jitter sensitive traffic like VoIP
Supports 802.1q Virtual LAN (VLAN) Trunking
Voice Quality Monitoring (VQM)
Network Address Translation (NAT) for IP address concealment
Feature-rich ADTRAN Operating System (AOS)
Rugged metal case
Optional battery backup
The ADTRAN Total Access900/900e Series offers a single-box solution for hybrid IP/TDM and analog voice networks providing IP trunking for existing PBX and KTS. The integral SIP gateway converts analog phone, trunk, and TDM-based PBX connections to IP for network migration. When coupled with a NetVanta PoE switch, the combined solution provides a seamless transition from digital and analog systems to VoIP networking.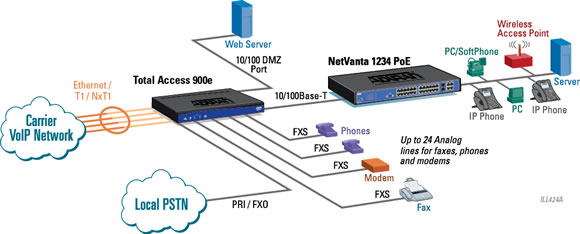 For carriers offering Metro Ethernet services to business networks, the Total Access 900e Series offers dual Ethernet interfaces to provide Wide Area Network (WAN) access over an Ethernet port. Integrated analog and digital voice, as well as data service, can be provided over this link. A robust SIP gateway and IP router make IP connectivity seamless and reliable.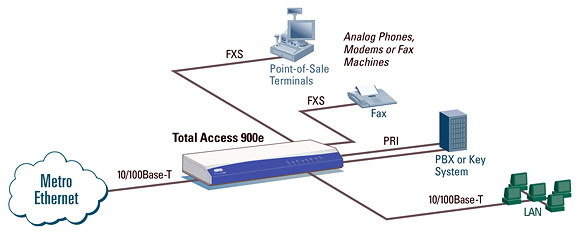 The Total Access 900/900e products are an ideal solution for creating a multisite IP network providing dynamic voice and data services. The Total Access 900e located at the host site with ADTRAN Total Access 900s at multiple remote locations allows SMB and distributed enterprise users to interconnect their legacy TDM-base voice equipment over an IP Wide Area Network (WAN). Each location can have a PRI, T1 Channel Associated Signaling (CAS), or FXS connection from an existing PBX or key system, saving on costly recurring toll charges while creating a robust, dynamic voice network.

Using the ADTRAN Total Access 900e for point-to-point applications allows customers to utilize existing PBX and Key Telephone System (KTS) features and functions, while still reaping the cost-savings and dynamic benefits of an IP based network. Dual Ethernet interfaces provide a connection for the WAN as well as a connection to LAN devices such as Ethernet switches for connecting IP phones, wireless access points, or other IP-enabled platforms. Robust Quality of Service (QoS) features assure that calls arrive intact, making the IP network seamless to users.

Download the 900e Series Data Sheet
Please call us or email us for a free consultation or purchasing.