Vtech Hospitality and Hotel Phone Products
---
When you choose VTech phones for your property, you can count on world-class service and support, market-leading engineering and the greenest standards. You can relax knowing we understand what your guests want too. That's thanks to more than 35 years of experience as the world's leading manufacturer of corded and cordless telephones. As the market leader, we invest a significant portion of our earnings every year to analyze and meet customer needs using the latest technologies. We also have global sales, marketing, and research and development teams that provide support to customers on six continents. Our comprehensive line of hotel phones is the result of this expertise and resources—catering specifically to the hospitality market while providing clear cost and feature benefits. That's the VTech advantage.
---
Vtech and Pulse Supply at the forefront of pioneering technologies, such as: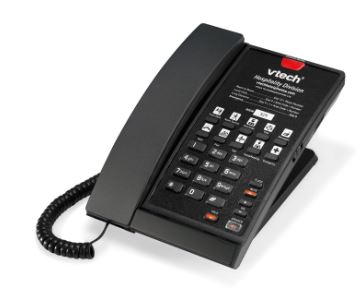 Analog Hospitality and Hotel phones
SIP Hospitality and Hotel IP phones
Corded and Cordless Hospitality phones
Antibacterial plastic to safeguard guests and housekeeping staff from germs
Rubber inlays underneath keypads to protect against high humidity
USB ports so guests can charge smartphones and other electronic devices (SIP phones and cordless charging stations)
Remote guest service key management (SIP phones)
Customizable faceplates and programmable guest service keys to highlight all the services and amenities hotels offer
Compact footprints
Flash, hold, mute and conference calling support for busy executives
Green Standards
Tested to last
We put all our hotel phones to the test, ensuring they meet the highest standards for endurance at each manufacturing milestone. To facilitate this, we have made sizeable investments in specialized equipment and setup procedures, such as humidity rooms and keypad reliability test machines. Whatever the condition, chances are we've tested for it. That includes high-humidity, salinity, and extreme temperature testing to ensure our phones perform in all climates and environments— from tropical resorts to ski lodges.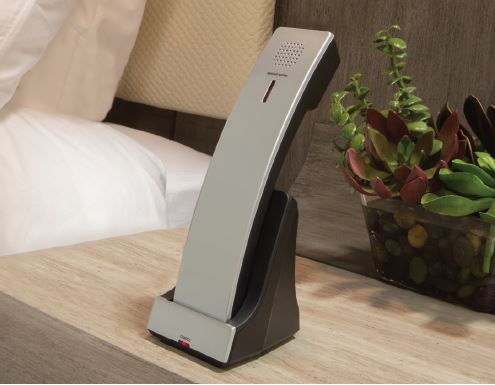 Have more questions about Vtech Hospitality and Hotel Phone Products and solutions? Call us at 410-583-1701 or email us at questions@pulsesupply.com.