ACE-52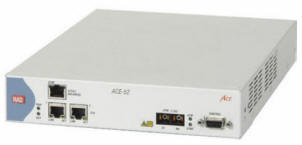 Features
Network interface: single STM-1/OC-3C, or 25.6 Mbps UTP
User interfaces: up to two 10/100BaseT ports and one optional E1/T1 CES port
Up to 32 VCCs
Traffic shaping according to CBR, VBR, UBR and UBR+ traffic classes
ATM OAM based on ITU-T I.610
VLAN-transparent and VLAN-aware bridging
VLAN support according to 802.1Q for traffic separation and prioritization
VLAN stacking (Q-in-Q) support
QoS classification based on IP TOS or 802.1p
In-band SNMP management over a dedicated ATM VC
Link diagnostics including timed-out traffic loopback and cell test
Compact: 1U high; half-19" wide
Description
ACE-52 multiservice network termination unit is customer located equipment (CLE), allowing substantial price/performance benefits in provisioning Ethernet and E1/T1 services over an ATM network. Supporting one or two 10/100BaseT links and one optional E1/T1 CES link, the ACE-52 multiservice network termination unit provides a demarcation point between the provider's network and the customer premises.
Advanced end-to-end traffic management and service control capabilities ensure Quality of Service guarantees and Service Level Agreement enforcement, while inherent ATM statistical multiplexing allow implementation of overbooking strategies.
The economical ACE-52 multiservice network termination unit allows service providers to take advantage of their existing ATM infrastructure in providing transparent LAN services, as well as integrated voice and data services, over the ATM network. Services are enhanced by ATM's statistical multiplexing, reliability and Quality of Service (QoS) capabilities.
Multiple services over ATM Service providers are looking for ways to cost-effectively introduce new services over ATM backbones, to leverage their widespread deployment of ATM equipment. RAD's ACE-52 multiservice network termination unit is ideal for delivering transparent LAN services (TLS) over the ATM network in point-to-point or point-to-multipoint topology, and to provide L2 VPN service. Using VLAN tagging, the ACE-52 achieves total traffic separation between customers by assigning VLAN IDs to virtual connections (VCs), creating a Layer 2 virtual private network (VPN) for each customer or service (e.g., data, voice, video). Different priority can be assigned to different types of traffic within each VPN, using IP TOS or VLAN priority bits (802.1p). The ACE-52 supports voice and other TDM services over ATM through an E1/T1 circuit emulation service (CES) port, which enables users to connect their PBX or any other TDM device to the ACE-52 and extend circuits over the public ATM network. This feature supports structured (with or without CAS) and unstructured circuit emulation. In order to ensure accurate synchronization across the ATM network, the CES port can derive timing data from several sources, including the network itself and the E1/T1 Rx clock (loopback).
Intelligent demarcation ensures end-to-end control The ACE-52 multiservice network termination unit serves as a demarcation device that is owned and managed by the service provider and installed at the customer premises. As such, the ACE-52 monitors and controls ingress and egress traffic, enabling the service provider to maintain QoS commitments to all its customers end-to-end.
OAM functionality reduces OpEx ACE-52's ATM OAM functionality allows service providers to automatically and remotely monitor their service, quickly localizing service or network disruptions and avoiding expensive technician truck rolls for on-site inspections. Complying with ITU-T I.610 OAM standard, the unit performs AIS/RDI checks, continuity check (CC) and loopback (LB) testing.
Differentiated service offerings The ACE-52 multiservice network termination unit allows each virtual connection (VC), to be assigned with different QoS parameters, including CBR, VBR, UBR and UBR+. Sophisticated traffic management capabilities, such as traffic shaping and monitoring, ensure that allocated VC rates are not exceeded, helping carriers avoid congestion and anticipate problems before they affect their service. At the same time, statistical bandwidth utilization increases service efficiency and allows the customer to pass more traffic over the link when the network is free.
Remote management eases installation and minimizes system downtime Plug-and-play installation, automatic IP address learning and remote configuration simplify ACE-52 deployment. The device can be managed by the RADview HP OpenView application running on a UNIX or PC platform, which provides the capability to monitor, configure, isolate faults, and present network statistics on a graphical, user-friendly display. Configuration can be remotely downloaded/uploaded to/from the ACE-52. In addition, CORBA interface facilitates easy integration with third-party network management systems.