SmartScan Body Temperature Scanner
---
Fever-screening Reinvented.
Secure, Intuitive and Fast.
With the spread and pandemic of Coronavirus (Covid-19), businesses and organizations need to protect their employees and customers. With many businesses beginning to open, how do you provide a safer work environment? The use of a body temperature scanner is essential to determine if someone has a major symptom of a virus by looking for fever or elevated body temperature.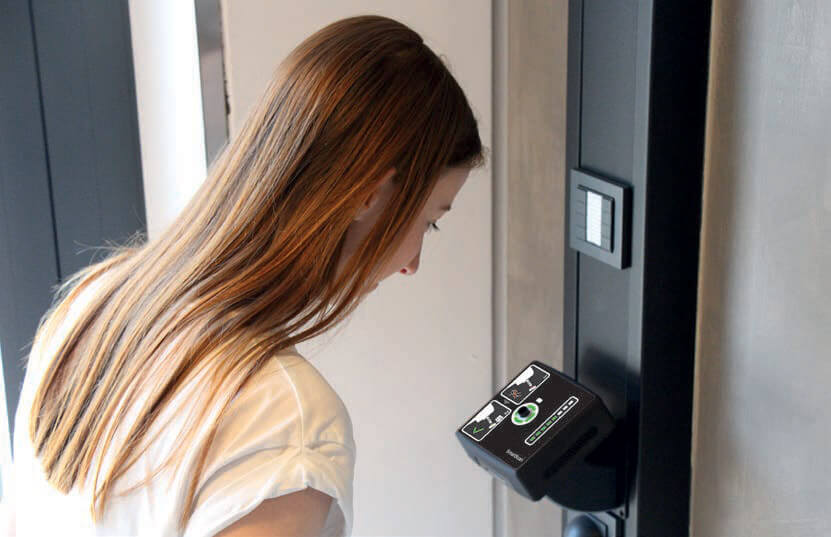 Introducing the SmartXScan Body Temperature Scanner. A cost-effective solution with simplified deployment. Your business can have this product up and running in a short period of time. If you need to control a door or entrance, the SmatXscan can work with most standard electronic locks and security entry systems.
The SmartXScan is safe:
Contactless body temperature measurement, no contact contamination
DSGVO-compliant operation possible, through self-measurement
High precision measurement, over 1,000 measuring points
Manipulation protection through intel. Thermal image analysis
The SmartXScan is intuitive:
Self-explanatory user guidance through intelligent sensor technology
Simple and flexible mounting
Live control via web browser for doormen
Automatic control of doors or turnstiles
The SmartXScan is quick:
Fast measurement in less than 1 second
High throughput, up to 700 people/hour
Early detection of regionally emerging fever hotspots
Plug & Play installation through PoE connection
Identification of infected persons is crucial
In order to permanently reduce the risk of spreading viral diseases (COVID-19, influenza, etc.) in the public domain and at the same time to make a better prediction of emerging geo-hotspots, it is necessary to identify infected persons at an early stage. The access of a possibly infected person to any kind of crowd of people must be prevented and collected data must be fed into AI-supported analysis databases in real-time.
Fever measurement is the most effective method
Fever is a non-obligatory, non-specific symptom, but it is a very useful screening tool for infections such as the coronavirus. Any infection that is detected early can potentially save several lives. Therefore, fever measurement plays an important role in the detection of potentially infected persons because:
Fever is by far the most common initial diagnosis (according to WHO Report 2/2020: 87.9% for COVID-19)
The body temperature rises due to the increased immune defense even before the onset of usual symptoms
Detection can usually be performed even at low virus loads
One simple measure for many applications
An automated, safe, and intuitive fever measurement at central, preferably electrically controlled, access points to crowds of people is an important measure that has been tested in many high-risk regions to:
Provide long-term and sustainable protection against viral diseases
Re-establish social and economic contacts, while at the same time controlling the risk before epidemics flare-up
Restore public confidence in public security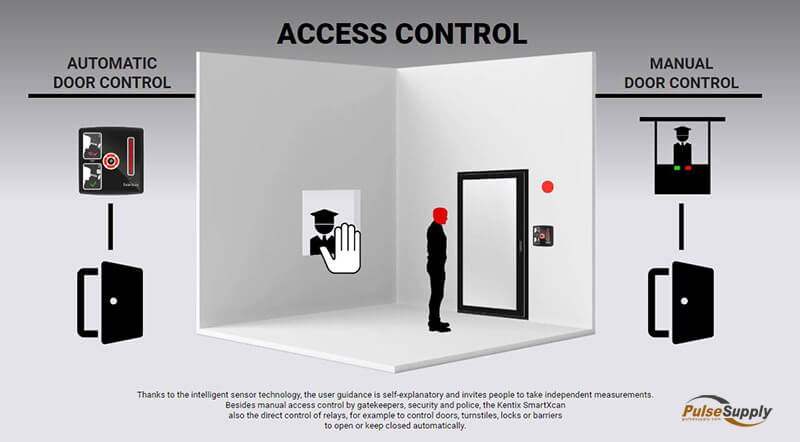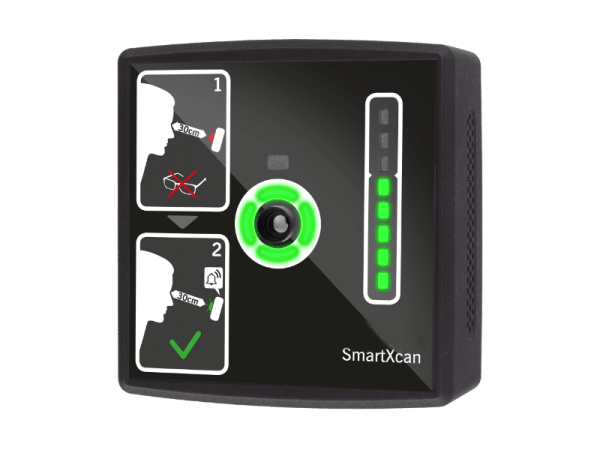 Simple user guidance
Very simple use of the device was important during development. No operating personnel is necessary for the use SmartXcan. Focus measuring point – approach head – measurement. This is done intuitively, the measurement is confirmed optically and acoustically within only 0.6 seconds. The whole process of approaching the SmartXcan, measuring, and stepping away takes about 3-5 seconds. The LED bar shows the result directly with GREEN or RED. Depending on the setting, the LED bar can also display three temperature ranges, such as elevated temperature, fever, or high fever.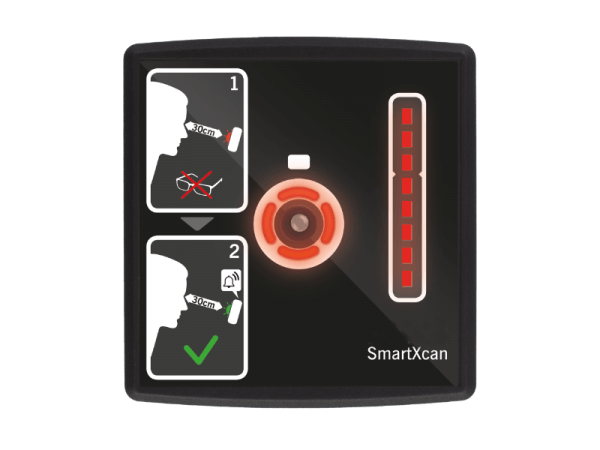 Precise measuring process thanks to intelligent sensor technology

1024 sensors measure the temperature at many points of the eyes and forehead. Due to the defined and always the same process, we achieve a much more reproducible measurement than comparable methods. Additional deep-learning algorithms are used to continuously teach the thermal image and optimize the measurement process. Disturbing influences can thus be faded out as far as possible. With more than 1,000 measured values, the result is a reliable statement of body temperature.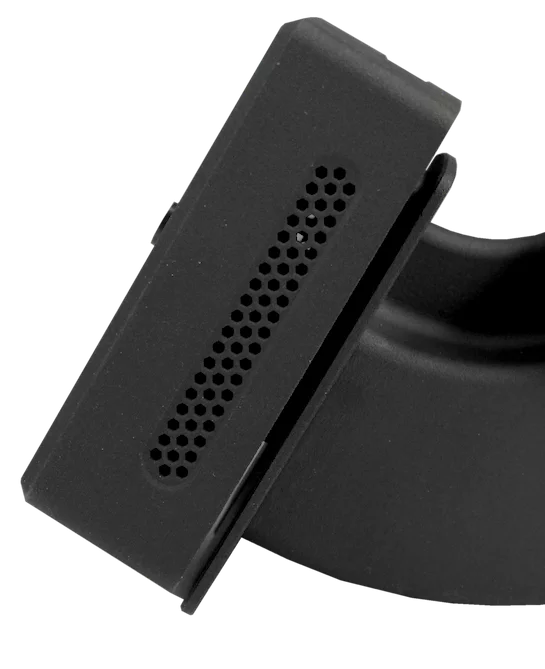 Complete system

The SmartXcan Sensor is supplied as a complete set. Wall bracket, mounting material, and covers are included in the delivery. For commissioning, only a network connection with Power over Ethernet (PoE) is required. Via the network connection and the integrated HTTPS web server, the device can be accessed at any time by PC, tablet, or smartphone. Configuration changes or updates can thus be carried out easily. The administration of several devices, including the distribution of the configuration, is also possible without any problems.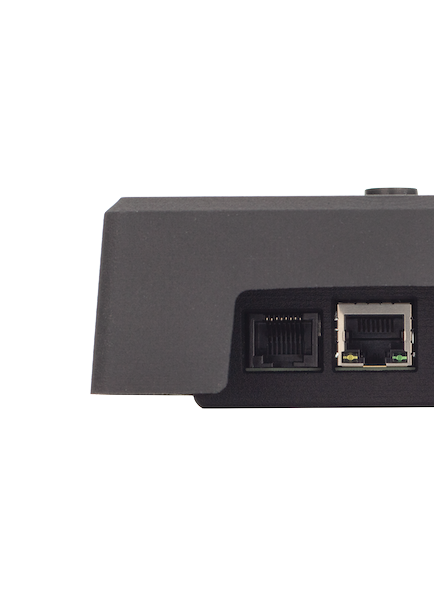 Compact dimensions, easy mounting
The sensor, measuring at only 4.7"x4.7"x1.9" (120x120x47mm), is supplied with a lockable wall mounting bracket and cable cover to prevent tampering. The sensor is ideally mounted at a height of 43"-47" (110-120cm). Barrier-free mounting is therefore possible.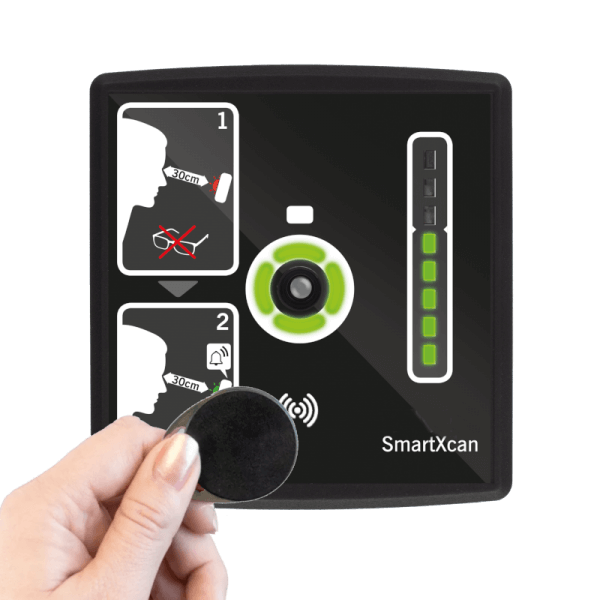 Optional RFID reader integrated
The version with an integrated RFID reader (Mifare DESFire) is used to activate and assign the measurement to persons. The persons are created in the user administration accordingly with an RFID token. Each measurement is then actively started by holding the RFID token in front of them. Measurements can then be reported with the assignment to the person. The report can be sent by e-mail, SNMP, or Web-Hook. Temperature measurements can also be viewed in the SmartXcan logbook. User administration can also be carried out via LDAP or Active Directory.
Have questions or would like to purchase the SmartXscan? Call 1-410-583-1701 or email us!