WAN Optimization Hardware Products
---
We offer products that provide bandwidth optimization for IP networks that communicate through routers. Since the IP bandwidth is usually smaller on Wide Area Network compared to the LAN where are all the devices such as computer, laptops and servers are connected together, some control and optimization is required between the Router and the Switch. WAN optimization hardware devices look at the IP traffic and determine what type of protocol or applications are being utilized to perform priority and optimization of the individual packets. This allows higher priority traffic like voice or video to be sent to the router first and limit traffic like email, IM or bit torrent.
Get Bandwidth Optimization with Exinda
Pulse recommends, supports and sells Exinda (GFI) products and solutions.
Exinda Unified Performance Management (UPM) Appliances provide the following features:
Increase the speed and efficiency of your wide area network
Unified Performance Management (UPM) solution delivers everything you need to manage your application performance and ensure the highest quality user experience
A holistic approach to WAN Optimization. This hardware eliminates the communication barriers and contention of point solutions, by integrating visibility, control, and optimization, into a single, unified solution.
Rich graphical view into your network
Immediately detects and optimizes out of the box
Solves the larger problem of trying to make existing equipment with specific functions become a WAN optimization hardware product like Cisco, Sonicwall, and others.
Scalable appliances from small offices to large enterprises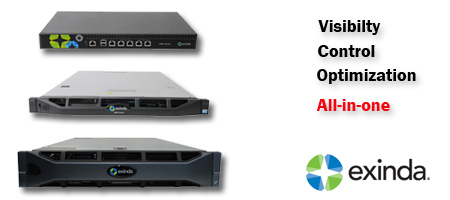 Exinda Unified Performance Management Products from Pulse Supply

With network traffic growing exponentially, application performance and WAN optimization are two of the biggest IT challenges that organizations face. Until now, network managers and administrators lacked a comprehensive solution for monitoring and managing network resources and bandwidth while meeting user expectations for fast application response. Exinda revolutionizes the way organizations manage their network by offering affordable and easy to use an appliance that delivers visibility, control, and proper bandwidth optimization.

Exinda's unified solution ensures a complete picture of WAN visibility, control, and optimization. Built on a single management platform, Exinda's architecture seamlessly integrates all the components of WAN performance management into a single solution.
---
Download the Exinda Unified Performance Management Appliance Brochure to get started.
Watch the 2 minutes WAN Optimization explanation video or watch on

Pulse Supply has many more products and solutions than listed. Please call us or email us for a free consultation.