FOMi-40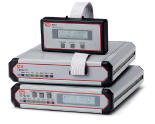 Features
Selectable data rates from 56 to 2048 kbps
Operates over multimode or single mode
Extended transmission range up to 100 km (62 miles) using 1550 nm laser diode option
Automatic rate detection in external mode for tail-end applications
Full management of the local and remote units from the front panel
Remote in-band management for all conditions
Real-time alarm indication for local and remote units
Diagnostic V.54 loops and built-in V.52 BERT
Card version for LRS - 12, or a double modem card for LRS - 24, 19" modem rack with SNMP management
Variety of digital interfaces supported, including:
V.24/RS-232 (64 kbps)
V.35
X.21
RS-530
V.36/RS-449
G.703 Codirectional (64 kbps)
G.703 E1
G.703 T1
Built-in Ethernet bridge
Description
The FOMi-40, Fiber Optic Modem, provides a long range (up to 100 km / 62 miles), and a secure data link between computers, routers, multiplexers and other data communication devices. It operates at 14 selectable synchronous data rates from 56 kbps to 2048 kbps.
FOMi-40 converts electrical signals from DTE equipment into optical signals via an infrared light emitting diode or a laser diode. At the opposite end of the fiber, the optical signals are converted back into electrical signals in compliance with the appropriate interface.
Two versions of FOMi-40 are available: Master and Slave. The Master standalone version features a front panel LCD. The Slave unit has a blank front panel with a 20-pin connector. For cases where parameters of the slave, master or system alarms have to be monitored and changed on the slave side, a Portable Control Unit (PCU) can be connected to the 20-pin connector.
The modem uses an in-band management channel for controlling and monitoring the remote unit. Both data and management are transmitted over the same fiber link, simultaneously, without interference.
Menu-driven software, available on the front panel, allows the user to soft select the monitoring and adjustment of local and remote units.
The front panel software menus allow the user to monitor and control the following parameters:

Data rate (when set to Internal or Receive mode)
Clock source
Loop activation
Internal BER tester activation
LED status of local and remote units
Local and remote unit settings
Real time alert of fault conditions.

When set to External mode, FOMi-40 automatically detects the clock rate coming from the digital interface and sets the remote unit to work at the same rate. When the data rate of the external clock is changed, both local and remote units follow the new rate and synchronize accordingly.
FOMi-40 utilizes a Phase Locked Loop (PLL) circuit to recover jitter-free data and clock from the optical signal.
FOMi-40 is designed to operate with several grades and sizes of fiber optic cable. Different optical interfaces are available:

850 nm for use with multimode fibers
1300 nm for use with single mode fibers
1300 nm laser for use with single mode fibers
1550 nm laser for use with single mode fibers.

Immunity is provided against electrical interference such as EMI, RFI, spikes and differential ground loops. Protection is provided against sparking and lightning, and a secure link is maintained in hazardous or hostile environments.
Timing is derived from three alternate switch-selectable sources:

Internal, from a built-in oscillator
External, from the attached DTE
Receive, from the received signal.

FOMi-40C is a card version for LRS - 12 and FOMi-40CD is a double modem card for the LRS - 24, 19" modem rack with SNMP management, which can accommodate up to 12 or 24 modems. These card versions can be managed in an LRS 12/24 hub from an ASCII terminal or by a RADview. RADview, RAD's SNMP management application running on PC or HPOV UNIX platform.
The diagnostic facility of the unit includes different loop tests and an internal BER tester. The available loops are:

Local analog loopback
Local digital loopback
Remote loopback
Remote analog loopback.

The loops can be activated from the front panel, the PCU, the central SNMP management or the digital interfaces, which support loop activation signals. An internal BER tester that complies with V.52/511 pattern is also available.
FOMi-40's field changeable interface includes an optional built-in Ethernet bridge interface. This option can be used for LAN to LAN connectivity over the fiber link, using only a pair of FOMi-40s.
The FOMi-40 system configuration is stored in non-volatile memory minimizing system downtime when the power is lost or when a faulty unit is replaced.
The in-band management channel provides real time alerts for:

Disconnection of the digital data transmission
Disconnection of the management channel
Remote modem failure
Loop activation.

Real time indication of system status is provided on the front panel LCD for both the local and the remote modem.