Exinda

Exinda is a proven global supplier of WAN Optimization and Traffic Shaping products. The company has helped over 1,500 organizations in 80 countries worldwide to reduce network operating costs and ensure consistent application performance over the WAN. The Exinda Unified Performance Management (UPM) solution encompasses application visibility, control, optimization, and intelligent acceleration – all within a single network appliance that is affordable and easy to manage. Pulse is a premier partner supplying Exinda products and solutions.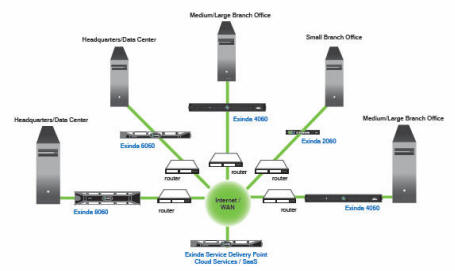 The Challenge
Every day more and more data is being pushed across our networks. Increased growth and reliance on web-based applications, VoIP, streaming video, and Internet usage have congested our networks and made them unreliable. Network users are spending more and more time waiting at the screen (TWAS) as applications compete for finite resources over-stressed, over-run networks. This proliferation of traffic has degraded our networks' speed and performance and resulted in productivity losses.
The challenge faced by IT professionals today, is how to gain visibility into the network, identify what applications and users are causing the congestion, and put policies in place to ensure applications and data run smoothly over your network, despite the ever-increasing demand?
The Solution
Exinda provides users with the best network experience possible by maximizing the speed and efficiency of applications over the network.
Exinda's unified performance management (UPM) solution brings together a suite of advanced, best-of-breed, visibility, traffic-shaping, and WAN optimization technologies into a single, easy-to-use appliance designed to improve network productivity.
Exinda is the only unified performance management solution on the market. Controlled through a seamlessly integrated, unified management console, Exinda reduces costs, increases revenue, and allows you to get the most out of your network.
---
Exinda Product and Solution Videos
---
Call or Email your Pulse Representative today for more information.