LPM Digital Patch Panel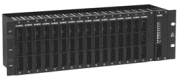 Features
Patch and Monitor Serial Fractional Interfaces
Supports Speeds up to 10 Mbps
Front Panel (LED) Activity
Display for each Circuit
Patches 24 RS-232, 24 RS-530, and 20 V.35 leads
Transparent to all
Perfect for Lab environments
Compatible to all older discontinued versions such as Dynatech, Spectron, Hadax, or VIR Digital Patch panels
Description
The LPM LEDPatch is a Digital Patch System that supports speeds up to 10 Mbps with RS-232/V.24, RS-530/422 and V.35 interfaces. A single LPM chassis supports sixteen circuit modules and one test module.
Each circuit module has five front panels LED activity indicators for SD, RD, CD, DTR, and RTS. Gold-plated, self-wiping contacts ensure reliability.
The test module displays ten activity LEDs of a specific interface with associated test points, a lamp test push button, and a DB-25 monitor port for optional external equipment.
A dedicated V.35 LEDPatch System is configured with type MRC/Winchester connectors.
Compatible to all older discontinued versions such as Dynatech, Spectron, Hadax, or VIR Digital Patch panels
Pulse Supply has many more products and solutions than listed. Please call us or email us for a free consultation.